Update 4/7/2023 – Dear Friends,
On Wednesday, April 5th at approximately 8:30 p.m., surrounded by his loving wife Iris and family, Les Feldick passed from this world into eternal Glory. Les was a true workman that needed not be ashamed because he devoted his life to serving the Lord Jesus through teaching God's Word rightly divided as stated in II Timothy 2:15. He was able to remain at the place he loved most on Earth, his cattle ranch in Lona Valley, until the very end. Although Les has left us bodily, his legacy will live on through the ministry he and Iris began in 1990. "Through the Bible" has and will continue to bless many with a deeper understanding of Biblical truths.
Prayers for the family are greatly appreciated but we would ask that you not send flowers, gifts, etc. Many of you have asked about the future and we want to ease your minds – "Through the Bible" will continue! Les expressed to us many times his wishes for us to carry on with the ministry, and that is what we intend to do as long as the Lord allows. Les always stressed that it took the efforts of many people to bring this teaching to the masses, and there are many who are working to insure it continues for years to come.
---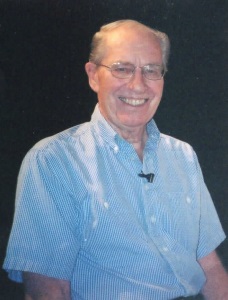 Leslie Eugene Feldick was born June 6, 1927, to Ted and Lu Feldick at home on the farm near Buffalo Center, Iowa. He passed peacefully into Glory on April 5, 2023, at the age of 95.
Les was raised on a family farm. He graduated from Buffalo Center High School as class president in 1944.
As a young man, Les enjoyed farming, sports, history, and listening to good gospel preaching on the radio while he milked the cows.
Les enrolled at the University of Montana in Missoula. Out of love and commitment to his family and the land, he returned to the family farm before graduating.
Les joined the Army in 1950 and served at the Army/Navy Hospital in Hot Springs, Arkansas, attaining the rank of Sergeant.
Les met Iris Gray on Valentine's Day in 1953. They were married on June 21, 1953. Les and his new bride moved from Hot Springs, AR, back to the family farm near Buffalo Center, Iowa. They raised three children in the love and admonition of Jesus Christ.
Early in his farming career, Les began teaching from the Bible to a small home Bible study group under the leading and encouragement of a close friend and missionary.
Other weekly home Bible studies were soon requested of Les, who was blessed greatly by God with the gift of Bible teaching. God's Word did not return void. Many hearts, minds, and souls were transformed to the glory of God through those small, home Bible study groups.
Les moved his family to an Oklahoma cattle ranch near Kinta, OK, in 1975, not far from where Iris was born and raised. Iris continued as a registered nurse and Les developed a cow/calf operation.
Not long after moving to Oklahoma, Les was asked to lead a morning Bible study with the Stigler police force. Upon invitation, other weekly Bible studies began in Tahlequah, Wilburton, Muskogee, and McAlester, Oklahoma. A request to televise a Bible study led by Les in Tulsa, OK, was made in 1990. This locally televised and "temporary" program began what would become a ministry of world-wide impact. The sound biblical teachings of a Holy Spirit led, self-taught farmer/rancher continues to inspire and instruct millions worldwide.
Les is survived by his sweetheart of 70 years, Iris. Greg (Janette), their first-born and Todd (Kim), their third child, remember their dad with love, admiration, respect, and gratitude. His sister, Jan, 3 nephews, 3 nieces, 9 grandchildren, and 8 great grandchildren also remain. Laura, their daughter, preceded her father in death in 2017. Les' brother, Harley, also preceded him in death.
---
Dispensation — it's not a bad word!
We still frequently receive calls, letters, and emails that say something like, "I told my friend about the program, and he said you were a dispensationalist!" Sometimes, they will even through in HYPER-dispensationalist to make it sound even more radical. Although we don't really like one-word definitions, especially when the defining label is given by detractors, dispensation is not a bad word. Check out this simple explanation from Les in Book #37…
Ephesians 3:2 "If ye have heard of the dispensation of the grace of God which is given me to you-ward." Dispensation is a word that I have refrained from using on the program purposely, simply because too many people have heard nothing but bad things about the word, even though they don't have any idea why. So, I've known from day one that I had to be careful how I use this word, because I would turn people off before they would give me a minute to listen. But I think by now I have built enough credibility across the country that people won't get turned off when I use the word dispensation. Remember Paul uses that word even in chapter 1 verse 10, so it's very Scriptural.
Ephesians 1:10 "That in the dispensation of the fulness of time…" Well to qualify a dispensation, it's just a simple word from which we get the word stewardship or dispensing. If we go to a pharmacy and give the pharmacist our prescription, he then dispenses what the doctor has ordered, but along with dispensing the product he also gives you explicit instructions. You don't just take that medicine haphazardly, but rather you follow the instructions that came with the dispensing. Now bringing it back into the Scriptures, a dispensation was a period of time during which God laid particular dispensational instructions to the human race.
---
Remember we have several streaming options for Through the Bible "channels" to access the full collection of programming. You can watch anytime on any device using YouTube, ROKU, AppleTV & Amazon FireTV. We are excited to offer all of these FREE options for the Bible Study!
---
PLAN FOR HEAVEN ~ KING JAMES VERSION
ROMANS 3:23-27 For all have sinned, and come short of the glory of God; Being justified freely by his grace through the redemption that is in Christ Jesus: Whom God hath set forth to be a propitiation through faith in his blood, to declare his righteousness for the remission of sins that are past, through the forbearance of God; To declare, I say, at this time his righteousness: that he might be just, and the justifier of him which believeth in Jesus. Where is boasting then? It is excluded. By what law? of works? Nay: but by the law of faith.
ROMANS 6:23 For the wages of sin is death; but the gift of God is eternal life through Jesus Christ our Lord.
ROMANS 1:16-19 For I am not ashamed of the gospel of Christ: for it is the power of God unto salvation to every one that believeth; to the Jew first, and also to the Greek. For therein is the righteousness of God revealed from faith to faith: as it is written, The just shall live by faith. For the wrath of God is revealed from heaven against all ungodliness and unrighteousness of men, who hold the truth in unrighteousness; Because that which may be known of God is manifest in them; for God hath shewed it unto them.
I CORINTHIANS 15:1-6 Moreover, brethren, I declare unto you the gospel which I preached unto you, which also ye have received, and wherein ye stand; By which also ye are saved, if ye keep in memory what I preached unto you, unless ye have believed in vain. For I delivered unto you first of all that which I also received, how that Christ died for our sins according to the scriptures; And that he was buried, and that he rose again the third day according to the scriptures: And that he was seen of Cephas, then of the twelve: After that, he was seen of above five hundred brethren at once; of whom the greater part remain unto this present, but some are fallen asleep.
ROMANS 5:8-11 But God commendeth his love toward us, in that, while we were yet sinners, Christ died for us. Much more then, being now justified by his blood, we shall be saved from wrath through him. For if, when we were enemies, we were reconciled to God by the death of his Son, much more, being reconciled, we shall be saved by his life. And not only so, but we also joy in God through our Lord Jesus Christ, by whom we have now received the atonement.
ROMANS 4:5 But to him that worketh not, but believeth on him that justifieth the ungodly, his faith is counted for righteousness.
EPHESIANS 1:13-14 In whom ye also trusted, after that ye heard the word of truth, the gospel of your salvation: in whom also after that ye believed, ye were sealed with that holy Spirit of promise, Which is the earnest of our inheritance until the redemption of the purchased possession, unto the praise of his glory.
I THESSALONIANS 4:13-18 But I would not have you to be ignorant, brethren, concerning them which are asleep, that ye sorrow not, even as others which have no hope. For if we believe that Jesus died and rose again, even so them also which sleep in Jesus will God bring with him. For this we say unto you by the word of the Lord, that we which are alive and remain unto the coming of the Lord shall not prevent them which are asleep. For the Lord himself shall descend from heaven with a shout, with the voice of the archangel, and with the trump of God: and the dead in Christ shall rise first: Then we which are alive and remain shall be caught up together with them in the clouds, to meet the Lord in the air: and so shall we ever be with the Lord. Wherefore comfort one another with these words.
ROMANS 10:8-13 But what saith it? The word is nigh thee, even in thy mouth, and in thy heart: that is, the word of faith, which we preach; That if thou shalt confess with thy mouth the Lord Jesus, and shalt believe in thine heart that God hath raised him from the dead, thou shalt be saved. For with the heart man believeth unto righteousness; and with the mouth confession is made unto salvation. For the scripture saith, Whosoever believeth on him shall not be ashamed. For there is no difference between the Jew and the Greek: for the same Lord over all is rich unto all that call upon him. For whosoever shall call upon the name of the Lord shall be saved.
REVELATION 22:21 The grace of our Lord Jesus Christ be with you all. Amen.
---
Les Feldick Ministries 30706 W. Lona Valley Rd., Kinta, OK 74552
1-800-369-7856 or 918-768-3218