Jan – Feb – Mar 2022
As always we are going to start with a big thank you! The prayers, cards and notes of encouragement are always appreciated. Les & Iris are happy to be home and together, which is exactly where they want to be! Not much has changed in the past couple months. Les makes an effort to drink more water and get plenty of rest. Iris monitors her blood sugar closely and tries to move around as much as possible. The good Lord does the rest! Please continue to pray for us in 2022 and know that we are praying for you! We are all so grateful for all He is doing and will continue to do for the family and the ministry in this New Year! God Bless!
Happy New Year!
---
What In The World – Reprint from Jan – March 2012Although Les wrote this article 10 years ago, it is just as relevant today.
Deception
Over and over– at least eight times from the pen of the apostle Paul– the Scriptures warn us not to be deceived. In 
II Timothy 3:13
, Paul writes "
but evil men and seducers shall wax worse and worse, deceiving and being deceived.
" Deception today is coming in many different forms. The emergent church movement, which on the surface may sound enlightening to the untaught, is actually blatant in its unscriptural approach, and a subtle movement taking the church back under the pope.
Furthermore, there is the constant attack on the veracity of the word of God– some blatant and some more subtle. I recently read an article that was ridiculing the idea of taking the Bible literally. That began of course with Origen, who among other heresies, promoted taking all Scripture figuratively. He was the one to introduce replacement theology and it permeated the vast majority of Christendom– both Catholic and Protestant. That deception has carried on for nearly 2000 years. Consequently, almost no knowledge of the end time prophecy is in many of our churches today. If Israel disappeared shortly after the Roman destruction of Jerusalem and the Temple, as Origen taught, then naturally no prophecy can be fulfilled because the heart of prophecy is Israel. What a deception! Further deception is destroying the glorious gospel of grace by bringing all the various works religions onto center stage. But the more deception we see, the closer we are to the Lord's shout and trumpet. Remember the word trumpet is singular in Paul's letters– not plural as in the book of Revelation. The rapture too is coming more and more into the gun sights of the deceivers. Very few pastors and preachers ever mention it and it is being ridiculed far more than encouraged. But as Paul wrote in II Thessalonians 2:3, "let no man deceive you." Stay with the truth of Scripture.
II Peter 3:15-16. "And account that the longsuffering of our Lord is salvation; even as our beloved brother Paul also according to the wisdom given unto him hath written unto you; As also in all his epistles, speaking in them of these things; in which are some things hard to be understood, which they that are unlearned and unstable wrest, as they do also the other scriptures, unto their own destruction".
---
Notes from the Office
Please note that "Turn Around" takes place in February. After the last taped program airs (82-3-4) we will start back at the beginning with #1 in Genesis. Those shows are over 30 years old, so Les will appear years younger and mentioning things that happened in the 1990s. You may also notice that the "book-lesson-part" is no longer on the board behind Les, but it has been added digitally at the beginning, during the waterfall scene, to help you identify the particular program each day.
In the early days of the ministry, Les mentions $2 or free transcripts. We cannot honor those prices, but we do offer free materials, when we have them available. Over the last 20 years, production costs, as well as shipping, have increased exponentially, but our prices have not changed. We will hold off an increase as long as we can, but please be aware that it is a possibility should production costs continue to rise. The price of paper, ink, packaging and postage are ever increasing. We do not ask our customers to pay for standard shipping, but this may not always be the case.
Les Feldick Ministries has two official websites – The original website, www.lesfeldick.org , which has the audio and text form of all lessons, as well as all past newsletters and other ministry information.
The other website being www.lesfeldick.com , where you can go to order and donate, as well as watch the programs, by clicking the "watch now" tab and choosing the program you would like to watch.
You can stream "Through the Bible" on Roku, Firestick or various Smart TVs by searching either "Through the Bible" or "Les Feldick" on those platforms. We also have an official YouTube channel, "Les Feldick Official", which should have the complete collection by March of 2022. We do NOT have or endorse any other websites or social media sites. If you donate to any other sites, the donation does not benefit Les Feldick Ministries. We do NOT sell materials through Amazon or any other retailer. We feel people who purchase the books to sell on these sites for profit are taking advantage of Les Feldick Ministries and our supporters.
If you need a year-end receipt for income tax filing purposes, please request it by calling or writing our office. If you receive a donation receipt for each donation, you may not need a year-end. If you don't file taxes and you would like to help the ministry save money, you can request "no receipt necessary" with your donation.
Finally, Dish Network viewers please note that the CTN channel position has changed from 267 to 262 starting 12/15/2021. If you are recording the program from CTN, this may affect your recording.
Thank you to everyone who helped make it possible for "Through the Bible" to remain on television and radio for another year! God is good!
---
A memory shared from Iris
Although planning a trip from Oklahoma to Minnesota in January doesn't sound like a wise decision, when the Lord sends you to teach, YOU GO! So off we went to Willmar, MN in 1995. As we reached the Iowa border, we ran into a heavy snow. Soon after Les's brother called to warn us that we were traveling into a snowstorm, and we'd better find a place to stop. By the time we reached to next exit, we could hardly see the highway!
Don't you know the Lord provides! Right off the exit was a four-room inn that had been converted from an old schoolhouse. There was one room left, as other stranded travelers occupied the remaining rooms.
While the blizzard raged outside, we joined the other couples in a cozy dining area. There we were served the best beef stroganoff we have ever tasted, prepared by the owner of the Inn. Although it will never taste as good or be more appreciated than it was on that cold night, I am passing the recipe on to you.
While we enjoyed the delicious meal, good company and a warm bed for the night, the snow piled high outside the Inn. The snowplows got busy early the next morning but we had to detour far off course to reach our scheduled Bible study. As we drove, we praised the Lord for keeping us safe and fulfilling so many of our needs. We know that He had His hand in everything, from the warning call we received, to the one empty room, to the best beef stroganoff we've ever tasted! We made it just in time for our Bible study class, where we enjoyed a wonderful study of God's Word. As another storm rolled in, we arrived safely back in Oklahoma, Praise the Lord!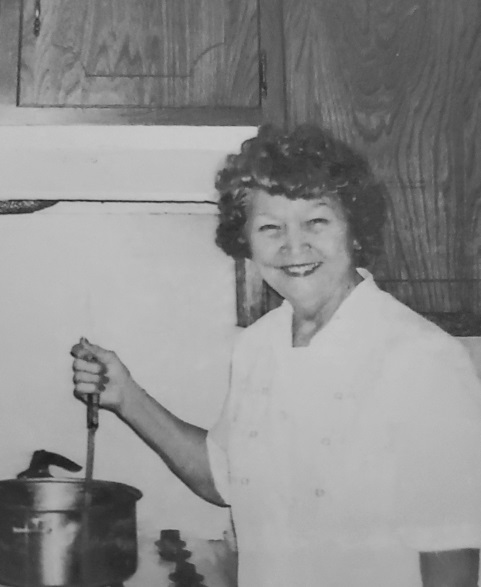 ---
The Recipe Corner with Iris – The Best Beef Stroganoff Ever
1 lb bag of egg noodles
1 ½ cups beef broth
2 tablespoons butter
1 tablespoon Worcestershire sauce
1 – 8 ounce can sliced mushrooms
¾ teaspoon salt
1 cup chopped onions
¼ teaspoon pepper
2 cloves garlic – finely chopped
¼ cup all-purpose flour
1 lb ground beef
1 cup sour cream
Cook egg noodles according to directions on package and set aside. Sauté mushrooms, onion, and garlic in butter for 5 – 7 minutes on medium heat until tender and set aside. Brown the ground beef and drain. Combine sautéed vegetable with ground beef, adding Worcestershire sauce, salt & pepper and 1 cup beef broth. In a separate pan, stir flour into remaining beef broth over medium heat until thick. Add to meat and vegetable mixture and bring to a simmer. Remove from heat and add sour cream, mix well and serve over warm noodles. Yum Yum!